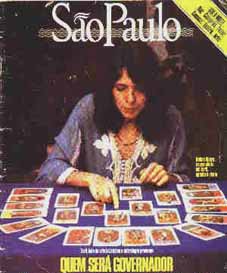 35 years experience as Tarot reading counselor and teacher.
22 years experience as sensitive nurse and healer
in the Psychiatric Clinic of
"Dr Eliezer Mendes" Psycho Trance Association - Brazil See my portfolio

I began studying and working with symbols when I was 19 years old and by 23 was a well known as a Tarot reader in Brazil also teaching the Egyptian Tarot and their use in psycho diagnosis. I created a specific spread I call the Time Line Spread. The Time Line Spread is composed of 25 cards, 9 from the Major Arcanas, and 16 from the Minor's Arcanas corresponding to a16 month period, 8 months in the past and 8 months in the future.
This is the spread I use during my 2 hours sessions during which I explore all aspects of an individual's life, in particular their skills and gifts, factors that may be holding back their life, and the way they interact and deal with their environment and those around them. My goal in my readings is to help the person to understand what has been happening in their life and to recognize and re focus on their real goals and wishes, and the way to attain them. I also aim to identify and then clear pre conceptions acquired from external values such as society and family. This can restore self esteem and guide the development of one's true will. A month by month analysis can then help pin point issues at each step of the process and look at how one has been dealing with difficulties and emotions. I then work on helping to re focus the energy to encourage immediate and sustained personal development.
I believe the self-realization is the best away archive happiness and fulfillment and that by developing one's talents that "mission" can be accomplished. By "mission" I mean an organic process where our individuality and specialties are what serve the natural order of the universe.

Since my childhood I was able to go in high stage of my consciousness and get release for my pains and doubts. As a teenager I was already interested in the occult sciences and psychology, especially Carl Gustav Jung. At 21, I found the Egyptian Tarot Deck and I was able to read the card without consulting any book. So, I began my carrier and in two years I was enough known to be a full time Tarot reader and Tarot teacher. However, I got emotional disturbed because I was overwhelmed my client's emotions, when I found the psychiatrist Dr. Eliezer Mendes. He developed a theory about mental disorders saying that every one who develops this illness is a potential channel. So he created a technique to train sensitives. Also he used his apprentices channels to release the patients before to begin the development them. I did my apprenticeship and kept working in his Clinic for 15 years. From all of the experiences I have been doing Tarot reading using the spread I created named Time Line Spread, what covers a time frame of 16 months, 8 in the past and 8 in the future, and help the consultant to understand the process he/she is leaving, discover or reaffirm he/she talents, gifts and skill, organize a plan for he/she self realization, and understand the way he/she have been relating with family, friends and lovers. Besides the readings I have been applying Dr.Eliezer techniques offering session as a channel help the release of traumas, stress and pain for bipolar, maniac-depressives and schizophrenics as well developing the sensitivity in a Channel Lab classes.